We have been part of the Web Design project for a dealership because in today's digital age, it is crucial for companies to adapt to changes and take advantage of the opportunities offered by the internet to improve their online presence. This web design, conversion and SEO project that Artic Agency has done for the prestigious motorcycle dealership, mundimoto.com to transform their online presence and improve their overall performance.
What have we done in this web design?
Development of a new online presence
The first crucial step of the project was to create a new website for mundimoto.com. Artic Agency worked hand in hand with the mundimoto.com team to understand their specific needs and goals. Under the user experience-centric design paradigm, Artic Agency created a modern, attractive and easy-to-navigate website. Using attractive visuals and a clear content structure helped captivate visitors and enhance their online experience.
Conversion optimization
One of the key objectives of mundimoto.com was to improve its conversion rate and increase sales. Artic Agency performed extensive data analysis to identify weaknesses and opportunities for improvement in the conversion process. Based on this information, they implemented various techniques and strategies to optimize landing pages, simplify the purchase process and increase visitor trust. This approach led to a significant increase in the conversion rate and an increase in mundimoto.com sales.
Search Engine Optimization (SEO)
To achieve better online visibility and increase organic traffic, Artic Agency implemented a comprehensive SEO strategy for mundimoto.com. This involved optimizing keywords relevant to the motorcycle industry, improving website structure, optimizing meta tags and creating quality content. In addition, Artic Agency worked on the creation of backlinks and the management of the presence in social networks to achieve a better positioning of mundimoto.com in the search results.
Web design for a dealership
The web design, conversion and SEO project carried out by Artic Agency has had a significant impact on the business, with the new website and optimized conversion techniques, they have seen a noticeable increase in sales and an improvement in the conversion rate.
Without a doubt, the impact of a good web design in the field of dealerships can be extraordinary and we had the opportunity to demonstrate our knowledge and experience in the web design, conversion and search engine optimization (SEO).
In addition to design, we implemented conversion strategies to attract and capture potential customers. We optimized landing pages with persuasive content and strategic calls to action to drive conversions. Through data analysis and A/B testing, we're constantly tweaking and refining conversion elements to get the best possible results.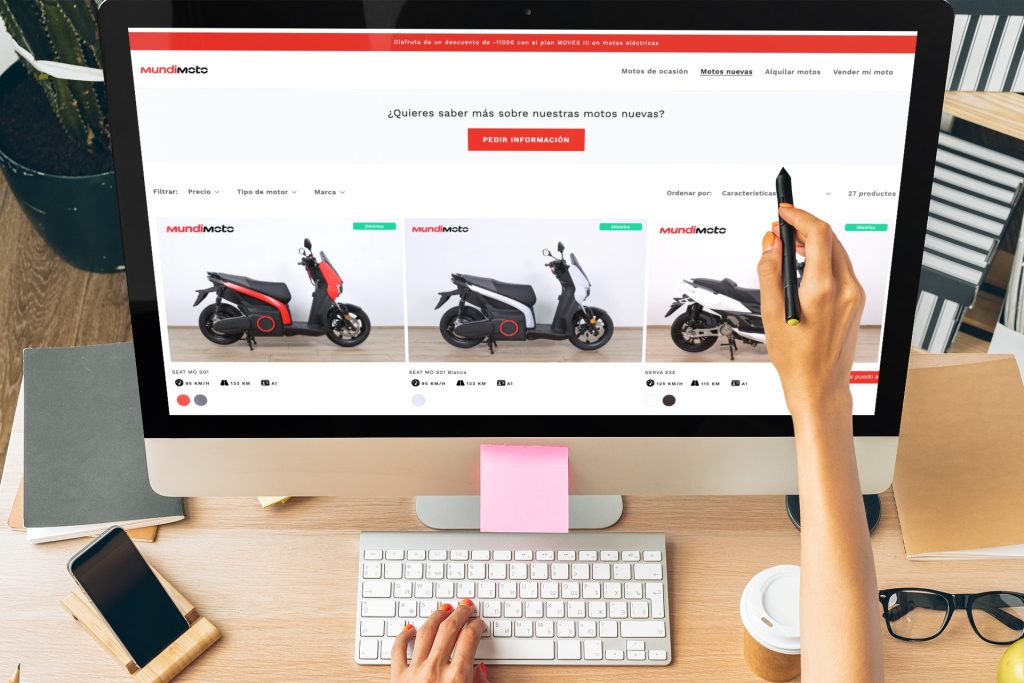 To achieve greater online visibility and increase organic traffic, we implemented a comprehensive SEO strategy. This strategy included optimization of existing content, keyword research relevant to the dealership industry, improving website architecture, and obtaining quality backlinks. With this holistic approach to SEO, we helped Mundimoto improve its search engine positioning and attract qualified traffic.
With our knowledge and experience in web design for dealerships, we can help you a stand out in a highly competitive market. We work with dealers throughout Catalonia and Spain, offering personalized and effective solutions to meet your specific needs.
Our team of web design experts understand the ins and outs of the dealership industry and know how to capture the attention of potential customers. we believe attractive and functional websites that feature vehicles prominently, with high-quality images, videos and detailed descriptions. In addition, we optimize the pages to be fast to load and compatible with mobile devices, providing a seamless browsing experience on all devices.
Our experience in conversion allows us to develop effective strategies for convert visitors into customers. Through the use of clear and compelling calls-to-action, simple contact forms and intuitive navigation, we guide website visitors towards taking the desired action, whether it's a request for a test driving, a query or a purchase.
In addition to designing stunning and converting websites, we also offer SEO services to ensure your website appears in the first search engine results. Through the use of relevant keywords, content optimization and linking techniques, we improve the visibility of your website and attract qualified traffic. Our aim is to ensure that potential customers find your dealership when looking for vehicles or related services.
At Artic Agency, we believe in close and direct communication with our customers. That's why we're available for monthly video calls, offer constant follow-up, and we have a 24 hours a day, 7 days a week helpline. Each client is assigned a dedicated account manager, who will always be on hand to answer your questions, offer advice and ensure you get the best possible results.
See some of ours here projects
If you are looking for boost your online presence and increase sales as a dealer, look no further. Artic Agency is the ideal partner to achieve this. Contact us today for more information about our services from web design, conversion and SEO for dealerships. We are here to help you stand out in the digital marketplace and achieve your business goals.